Mantua Celebrates 100th Anniversary of Sanctuary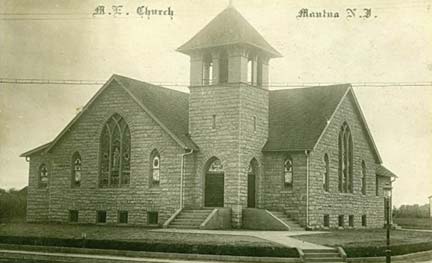 The years 2007-2008 are historic for the United Methodist Church of Mantua, as they mark the 100th anniversary of Mantua's sanctuary building, often referred to as "the brown, stone church on the corner." Church members broke ground for construction on August 19, 1907. Subsequently, the cornerstone was laid on September 22, 1907. The new church took ten months of building and was dedicated on June 21, 1908. At that time, the main floor served as both worship and Sunday school areas. Later, the basement was finished and became Sunday school area and social room a few years later. The entire sanctuary building was remodeled in 1971-72.
Church members commemorated the centennial with a special evening service, featuring pictures and items from the original sanctuary and basement. Many members of the congregation also shared memories brought to mind by the pictures.
During another service, pastoral staff used the church's historic altar table and cups to serve communion. Memorabilia and pictures of the structure have also been on display throughout the past year.
(written by Kathy Durand, co-historian)