Knoebel's Trip – August 2008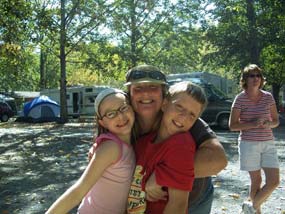 "Salt and light", that's what Jesus said we are to be in this world. I must say that this camping fellowship is beginning to take His words seriously and the blessings are coming.
We all left from various locations throughout Gloucester County last Sunday. Trailers were packed and all were anticipating a great time of fun, food, fellowship and even relaxation. Little did we know what God had in store for us all.
Our first night at camp always consists of setting up, a covered dish dinner and a quick jaunt to the park to ride the Phoenix and see the sites. We then come back and sit around the campfire or move around from site to site for conversation with the others who've joined us. Bob and Cathy, from York PA, were back again this year and that gave us an opportunity to get reaquainted with them. Very nice couple who Fritz befriended last year, they plan on seeing us again next year.
Monday started with light rain and grey skies. The weather cleared and after a good hearty breakfast everyone prepared for a day at the Park. It's customary for some of us to begin our day with a couple of rides on the Phoenix, so after our hands were stamped and wristbands attached that's where we headed. On my second ride, Hope and I were going up the first hill when the train stopped. There was no power to the chain that pulls the train. After a few moments we started climbing again and finished the ride.
We didn't think much about it but as we were waiting for some other riders to come down the ramp, the word came down that the ride was closed. We've been going to Knoebels for years and nothing like this has ever happened. We gathered our group and went to try some more rides.
It turns out that the park was having a power problem and at lunch time the announcement came over the public address system that most of the park rides would be closed for a few hours. There are other rides and things to do so we moved out and did what we could. My concern was keeping the kids occupied and we did a good job of that.
I mentioned "salt and light" well, that's exactly what the group from Mantua became. No one got angry or frustrated. As a matter fact when I talked to the others later on they all said that they had a certain peace about the whole experience. The peace that we all had we shared with those around us. We all had smiles on our faces and were just pleasant to be around.
Cell phones are wonderfully annoying devices that sometimes come in handy. Someone had contacted Pam when some of us were riding Ole Smokey (a miniature steam train). When she got us together for a meeting she told us that the park would take your wristband, clean the handstamp and give you a Park pass for another day. After discussion we decided that we would do that and return to the park on the next day. Everyone in our group was kind and gracious to the park employees. With passes in hand we headed back to camp and I must say we had a very good time that night. As a matter of fact, the conversation around the fire that night was so good that security had to come by and get some to be a little more quiet.
Tuesday dawned glorious! It was the best weather we've ever had on any trip to Knoebels. Highs in the low 80s, low humidity and not a cloud to be seen. Our canopy was a big blue sky. I'm not going to go into detail, but it was a great day! It's amazing what happens when you do something you enjoy with people you love. I believe that we blessed just about everyone we came in contact with. Gods economy is like that; when you bless you receive a blessing.
That evening I got to play some guitar and sing some praise and worship songs with some others. Even had an opportunity to share my faith with a young lady who had joined us for the trip. As I said; it was a great day!
Our last full day was Wednesday. This was the first time that some of us decided to stay an extra day. As others were packing I prepared omelettes to order. The fixins were; ham, bacon, pork roll, mushrooms, onions, bell pepper, tomatoes, chedder cheese, swiss cheese, american cheese and mild chunky salsa. Later we went down to the park to play games and get some funnel cake. I think everyone was exhausted by this time. We all headed for the Phoenix for our final ride and then headed back to camp. The kids played and the adults talked.
Thursday was get away day, so we packed up (in the rain). After a breakfast of baked oatmeal, fruit and yogurt, (a Pam R. specialty) we made our reservations for next year and broke camp and headed home.
This was, by far, our best trip to Knoebels. We were blessed in so many ways. I believe that God has something special planned for this new fellowship. As we've begun to look at the possibilities for this ministry certain things have become evident. There is an opportunity to envite others to a new life in Christ through camping ministry. The fellowship opportunities we already understood but the opportunity to offer radical hospitality is there as well. As individuals we're growng closer to each other yet we're looking for the opportunities for invitation. Call us the church on wheels. Thank you campers!