Worship Hours:
9:15 am Traditional Worship Service
11:00 am Praise Worship Service
Office Hours:
8:30 am – 3:00 pm Tuesday – Thursday
8:30 am – 12:00 pm Friday

Join Us for This Month's Coffee House
Click Here to learn more about our Coffee House Ministry.

CROP WALK

It is almost Crop Walk time again. I hope many will once again be able to participate by walking, donating and praying for our team of walkers. To join out team this year, raise funds on – line or to donate merely CLICK HERE and then register and "find a team" – Mantua United Methodist Walkers. Or, donate to our team by CLICKING HERE!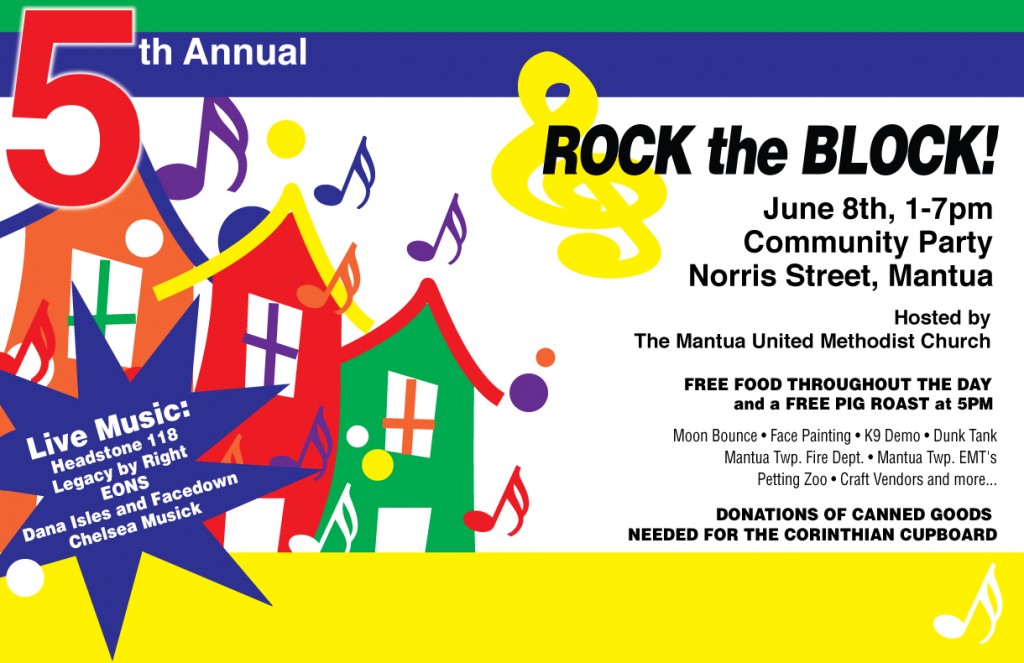 Click Here for More Information!

An Invitation to Discipleship
How does a church grow? How does the church not only grow, but how do the people also grow in the grace and knowledge of Jesus Christ?
Click to read the attached letter – Back to the Future – to find our more about an exciting new initiative for the United Methodist Church of Mantua in the coming year!

Hurricane Sandy:
How We Can Help Right Now!
First, we need to pray for all victims and relief workers.
Second, we can assist through gifts.
Because of the locality of the event, we can send money directly:
GNJ Sandy Relief Fund
1001 Wickapecko Drive
Ocean, NJ 07712-4733
Checks may be made to GNJ Sandy Relief Fund and 100% of church and individual gifts will go directly to the relief work.  Checks can also be placed in our church offering plate marked accordingly and we will send the funds.
Third, for right now, we can begin tangibly helping by collecting supplies for clean-up buckets. You don't have to put together a whole bucket, just bring any items to church by Friday November 9, and our District Youth will be putting them together.  Also, it does not list bleach, but if you would like to purchase a small bottle, we will see that it gets there.  The issue with bleach is that it cannot be shipped via UPS, Fed Ex, etc.  These will be delivered by us locally.
Click Here to Download the List of Cleaning Bucket Supplies (PDF)
The Camden Neighborhood Center Needs Our Help to Aid Victims of Hurricane Sandy!
Donate Food:

First, we need to pray for all victims and relief workers.The Camden Neighborhood Center has been impacted greatly by Hurricane Sandy. While the physical plant was not damaged by the storm many of the organizations that supply them with food have been unable to function due to power outages and storm damage.  They exhausted their food supplies during the storm and the aftermath.
The Camden Neighborhood Center is supplying food to many more people than usual.  They have almost 300 families registered for Thanksgiving assistance, and the cupboard is bare. An attitude of thanksgiving to God is best expressed through a generous attitude toward our neighbors.
You can help by bringing non-perishable, ready to eat food items to the church as soon as you can for delivery to the Neighborhood Center.  Please take the food  directly to the Neighborhood Center on Kaighns Avenue in Camden or bring your food donations to the church by Sunday Nov. 11th. Pastors, please call the Neighborhood Center and arrange for delivery of the food.

Volunteer & Do An Act of Kindness:
Become a prayer partner to someone in distress
Become a prayer partner with another congregation
Volunteer to gather flood clean-up bucket supplies
Assemble flood buckets on Nov. 11 at St. Andrews UMC
Volunteer at an emergency shelter
Volunteer to visit with people in shelters
Provide children and youth recreation at a shelter
Take a DVD, a player, projector & speakers to a shelter
Attend the ERT training on Nov. 17th (see below)
Volunteer as an ERT team member
Volunteer to help clean-up parsonages and churches
Volunteer to help rebuild parsonages and churches
Volunteer to help clean-up neighbors' homes
Volunteer to help rebuild neighbors' homes
Provide child care while they clean-up and rebuild
Provide housing for displaced pastors
Provide office space for displaced pastors
Pastors, invite a displaced colleague to share a meal
Provide meeting space for displaced congregations
Invite a displaced family to share a meal
Set up a "warming station" for those without electric
Set up a "charging station" for phones, laptops, etc.
Create a drop-in drink & snack (or soup) station
Host a program for a displaced congregation  (a nice meal,and an evening of entertainment and fellowship)
Help people whose transportation has been destroyed
Let someone borrow your generator
Give a gas can to someone who is using a generator
Give a blanket & coat to someone without electricity
Take a meal and drinks to a need neighborhood
Take a meal and drinks to visiting utility crews
Set up time to do volunteer clean-up work
Set aside time to do volunteer repair work
Donate tools to the rebuilding effort
Pastors, invite a displaced colleague to share a meal
Let a displaced pastor use your office and library
Provide copy machine usage to a damaged church
Provide lodging & meals for visiting volunteer crews
Provide utility hook-ups for visiting volunteer crews
Provide tutoring services to help fill educational gaps
Get ready to contribute to upcoming clothing drives
Get ready to contribute to replacement furniture drives
Get ready to contribute to housewares drives
Replace someone's damaged computer
Please pray, think, dream, brainstorm, discuss, read and do anything else you can do to add to this list of suggestions. Share your ideas with your pastor for distribution and ask him/her to share them with me, so that they can be added to the ideas shared as part of our Sandy Relief Ministry.

Click and Be Counted!
10-Fold is an interactive global gathering that features United Methodist projects around the world supported by the General Board of Global Ministries and UMCOR. Just as all of Global Ministries does, 10-Fold puts faith into action, living out the commitment of The United Methodist Church to congregational development, leadership development, global health, and ministry with the poor.
10-Fold began in October 2010 when people from all over the world "gathered," became advocates of Global Ministries' projects, encouraged others to learn about projects, and thereby raised donations to these incredibly valuable missions and projects.
This year, 10-Fold returns for a month-long celebration of five exciting projects, each highlighted for a full week. And with just a click of your mouse, you can become an advocate for mission!
Each visitor can trigger a US $1 donation to the week's project, made by one of 10-Fold's sponsors, simply by clicking on the Be Counted button.

Want to see what is going on here and on the 2012-2013 District Calendar? Click Here!
Check out our Newsletter The Vine!
What's Going on? at The United Methodist Church of Mantua?  Events, workshops, bible studies and more….